Czestochowa
Dunphy TD530 fitted to Hoval 8 Ton boiler. firing Coke oven gas and light fuel oil. fitted with ratiotronic 6000 digital burner control sysem. fitted with O2 trim and inverter drive for the combustion air fan.
3 units
fitted 2009-2010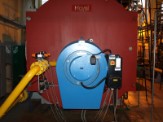 Walbrzych
Dunphy TG310 burner firing with coke oven gas. The burner is using the ratiotronic 6000 digital modulation system with O2 trim system fitted to AURA hot oil heater with output of 2000Kw. The burner also has hot change over of the gas trains so the burner will change over to to a standby gas train without stopping the burner as production require the flow tempreture to be 243 deg C +-2 deg C. with the hot change over it is possable to remove the standby gas train while the burner is firing.
1 uint
fitted 2008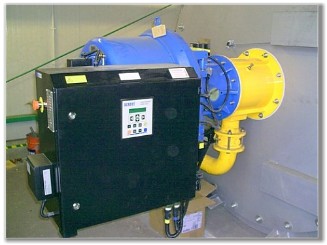 Pniewy
1Mw hot water boiler with Dunphy TG37 gas burner. The boiler is a range rated boiler from 800Kw to 1.4 Mw. included in the installation was pumps and heat exchangers and soft-water plant at 10 tons of water per hour.
one heat exchanger feeding a Tripe cooking line and the second supplying site heating
Suwalki
Re placement of mechanical modulating Dunphy burners with ratiotronic 6006 controlled duel fuel burners, fitted with Danfoss FC 102 inverters. With this configuration the burners will give a better than 10:1 turn-down ratio. Two burners have been replaced are a TD 420 and a TD 530. both burners have been replaced with fully automatic micro modulating burners fitted with the Ratiotronic 6006 burner control system. the old burners was Dunphy but was 20 years old and designed for light oil and LPG. the new burners are light oil also but natural gas.The gas installation was not from the national gas grid but from CNG storage tanks supplied by DUON Dystrybucja S.A. as there is no natural gas network in the north east of Poland for industry yet.